Friday, March 4, 2011 by {darlene}
Sometimes, when I browse the web, and pour over the amazing posts on DIY projects, renovations, and creative masterpieces…. I can become overwhelmed with all that I have not done, or all that I still hope to do, or all that I wish I could do.
Sometimes it happens when I look up and see that yes, I still have wallpaper-peel remains all over my kitchen. I still have boxes, unpacked, after 6 years in this home. I still have to do this. I still have to do that.
Sometimes, I start that mental rhetoric, where I say to myself "darlene, if only you would just buckle down and do this project or that project that you have been meaning to do…"
Meanwhile, I forget how far I have already come.
I forget all that I already choose to do.
I forget that I am in the middle of one of the best-est and brief-est seasons of life: enjoying little ones.
and I forget that we cannot do it all.
It is to these thoughts that I say, "don't loose heart! all in due time. It's season will come."
and, it is to these thoughts that I want to remind myself:
There is as much joy in the potential as there is in the finished project. maybe more joy.
There is hope.
There is promise.
There is, well,
potential.
and potential is beautiful.
So, to remind myself that potential is to be enjoyed; not rushed, I thought I would start a new set of posts that feature photos from my home…. photos that could be seen as "boy, there is a lot to do there!," but instead I am choosing to see them as a glimpse of the beautiful potential that we are blessed to have.
Here is the first: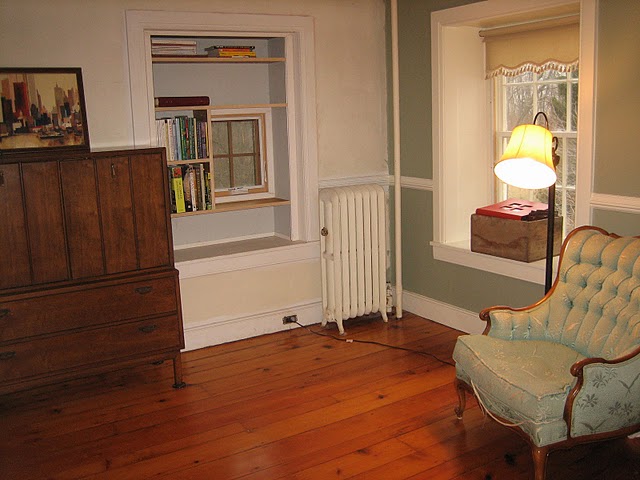 unpainted, unfinished, and unused…. a beautiful, sunny corner in our master bedroom is waiting for two, comfy, matching chairs, an ottoman, a small table and lamp; A place where my honey and I can read together.
What areas in your home did you think of right away when you read this post? Could it be that we should be enjoying the potential that we are so fortunate to ponder?
Isn't potential grand??
-{darlene}






{Fieldstone Hill Design is a brand new blog, and my dream! Thank you to everyone who is cheering me on. Love Fieldstone Hill? thanks. you rock. Would you consider sharing the love by Following {click Follow in the right sidebar}, Liking on Facebook, or linking here from your blog. I just knew you were awesome!}